CAMRA Discount Scheme
Due to the devastation caused by the Covid lockdowns, assume that discounts have been suspended until further notice. Check with pubs and clubs in advance of a visit.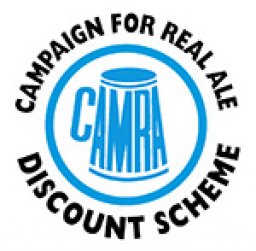 DISCLAIMER: Every effort is made to ensure that the details below are correct. However, mistakes can happen. If you are travelling any distance, you should use the contact details provided to confirm the veracity of the information. We are always pleased to correct any errors or omissions.
Please be aware that discounts are at the pub's and club's discretion and can be removed at any time. This is beyond our control.
The following are discounts available for CAMRA card carrying members (not to be used with any other discount or promotion):-




Branch pubs offering discounts to members
Updated 25th May 2021