Latest Half Pint Newsletter out now
Sunday 7 August 2016
Latest Half Pint Newsletter out now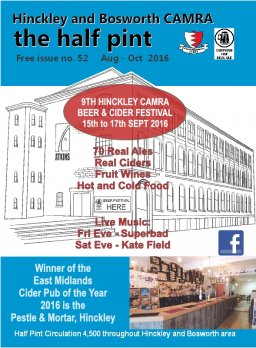 The latest edition of our free Half Pint newsletter is out now, so look for it in a pub or club near you. Features include details of the upcoming Hinckley Beer Festival and a very interesting mini travelogue written by the Chairman, entitled "The Fez, A Narrow Gauge Railway and The Potting Shed - A Kentish Sojourn"

Please note that the Nottingham Beer Festival dates are 12th to 15th October, not 5th to 8th October, as stated under the Branch Diary in this edition of The Half Pint.
For a full size representation of the front page, click on the image.
This is for the period August to October. As always, congratulations and thanks go to David & Dianne Bates who have edited this edition.
If you think you have ideas for content, then e-Mail Dave at ku.gro.armachtrowsobdnayelkcnih@rotidetnipflah


Updated 7th August