Latest Newsletters
July2021
Welcome to the 2nd Hinckley & Bosworth CAMRA newsletter.
We'd like to kick off by congratulating the England team on reaching the final of the Euro. It wasn't to be, but the team had us on the edge of our seats right until that last penalty. Hopefully the team will take this forward as a positive thing into next year's World Cup tournament.
Sadly, the tournament has been overshadowed somewhat due to a small minority targeting players with racist abuse.
As branch chair, I would like to take the opportunity to condemn this type of behaviour - both on & off the pitch. Football & going to the pub to watch the football should be inclusive for all regardless of colour, gender, sexuality and so on.
If you witness this type of behaviour in one of our pubs, feel free to notify myself or another member of the committee so that we may bring this to the attention of the licensee.
Apologies if it seems I am starting off with what feels like a moan. We feel that we should make the branch's stance clear on this point in order for CAMRA meetings, beer festivals & social gatherings to be a welcoming experience for all.
Now on to some branch related news…
We held a low key event at the Pestle & Mortar to present Sue & the team with the awards for Pub of the Year & Cider Pub of the Year.
To say the last 18 months has been a significant challenge to the pub trade would be the understatement of the year. This is made more difficult Micro pubs like the Pestle & Mortar, with limited indoor & outdoor space.
Sue & the team always do a tremendous job under normal circumstances, providing a warm welcome & a fantastic selection of real ales & ciders to anyone visiting.
I am pleased to say, due to hard work & perseverance, the Pestle still provides all the ingredients that make it a resounding success year on year.
It therefore gives us great pleasure to (finally!) present the award for Hinckley & Bosworth CAMRA branch Pub of the Year & Cider Pub of the Year 2020!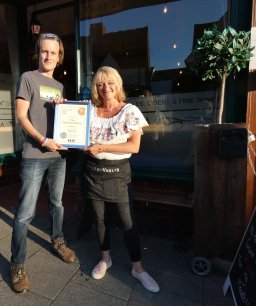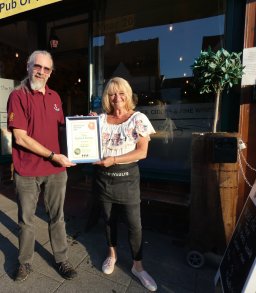 Photos courtesy of CAMRA member Ian May.
We decided to use the standard CAMRA certificates (Mainly due to my not realising we had a bespoke template the branch normally uses). Call into the Pestle to get a look at the certificates (And enjoy the ales & ciders on offer when you're there of course!) & let us know what you think. If there's a preference to use the template we traditionally use, we're happy to switch back for next year if that's what the majority prefers.
Carl Brett stood down as regional director last month. Rob Hamnett-Day is now our new RD. I met him during the March East Mids regional meeting & feel he will be a good fit for the role. I hope to introduce you to Rob face to face at the earliest opportunity.
Onto some negative news. Branch membership is down from approx 600 members to 500 members. Our membership secretary, Robin Newhouse, informs me this is in line with the national picture. It is not unexpected as people make cuts to cope with reduced income alongside not being able to visit the pub during the pandemic.
Further, we have noticed that messages going out to members via the comms tool (What we use to send this message you are reading) is only reaching circa 350 members. We believe this is due to members 'opting out' of all CAMRA communications when they initially joined up.
This is troubling as it means we have only been reaching 60% of our membership. We will be looking at how to rectify this.
However, in the meantime, if you know a branch member who is not receiving this, please advise them to log into their CAMRA account at https://account.camra.org.uk/ It will prompt for your CAMRA membership number & password. Once those have been entered, click on 'Marketing Preferences' on the left hand side.
You need to check the "email" tick box next to : "I wish to be contacted by my local CAMRA branch on local events and activities."
Once you have done that, scroll to the bottom of the web page & click "update"
Alternatively, if still having issues, they can email myself on ku.gro.armac.htrowsobdnayelkcnih@namriahc so we can try & help.
In the absence of a single Great British Beer Festival (GBBF) event this year due to COVID-19, CAMRA is encouraging licensees to hold events and activities celebrating live beer and real cider as part of a Great British Beer Festival at Your Local event, taking place from 30 July – 8 August, just a week after the proposed date that restrictions are set to end. More info can be found on the CAMRA website:
https://camra.org.uk/press_release/lets-get-back-to-the-pub-for-the-great-british-beer-festival-at-your-local-this-summer/
In response, we will be planning a Hinckley Walkabout on Friday 6 August. We'll be starting at the Queens Head at 5pm, followed by the New Plough Inn, then on to the Greyhound, Pestle, Elbow Room & finally the Railway.
Naturally, you are free to deviate. If there is a lot of us rocking up at 5pm, we may need to split into groups. We are also not sure what the 'new normal' will look like moving forwards.
I also note outside the Queens Head, there was a board saying they were only accepting its regular customers when I drove past the other day. Unless anyone else can advise otherwise, the plan will be to go there at 5pm & if still regulars only we will divert straight to the New Plough.
It would be useful to get an idea of numbers ahead of time. If you are interested in attending, please let me know via ku.gro.armac.htrowsobdnayelkcnih@namriahc . Although confirming your attendance ahead of time is not a necessity, it will just help me plan ahead of time in case we need to take any COVID precautionary measures due to numbers. For example, if there is 30 of us or so, I may ask some of us divert to the Railway & do the walkabout in reverse
We have made a conscious decision not to approach the pubs to put on special ales. Trade is still not back up to pre-pandemic levels & we feel getting additional ales in may result in wastage. Hinckley also has quite a wide selection of real ales & cider on offer across its pubs (Hence the idea of moving from one pub to the other!).
Despite the COVID restrictions, the Church End Brewery walk was a success. There was approximately 30 of us & fortunately the weather was on our side. We set off from the George & Dragon at 6:30pm ish & we all started arriving at the brewery from about 9:30pm onwards. There was a pub stop in between, with us splitting into groups so we could enjoy a rest at the Anchor Inn, the Malt Shovel & The Stag & Pheasant. Many thanks to the staff for accommodating us all. The Chair & the Deputy Beer Festival organiser got lost on 2 occasions & held the group up. However, it was a positive experience enabling people to come together after a long period of limited social contact. Our thanks again go to Nick for organising & to Church end Brewery for putting up with us all!
We are planning a similar scenic walk around the outskirts of Hinckley taking in Burbage at some point in August. More details to follow.
On a final note, the Government has continued on with its planned lifting of restrictions. However, in lots of ways this is a lift of restrictions in name only. Many, if not all, pubs are continuing to trade with some COVID safety measures remaining in place. I would urge everyone to follow the pub's guidance on arrival & be as cooperative & understanding as possible. At the end of the day, it's a small price to pay to help try & avoid a return to pubs having to close again (I needn't remind everyone of how unfairly pubs have been treated over the past 18 months!).
We are still planning to have our first branch meeting on 7th September (Usual kick off time of 7:45). Venue is TBC. We will aim to update on this further in the next week or two.
Hopefully that's a bit of an update to get your teeth into.
Hope to see some of you for the walkabout on the 6 August!
Cheers
Darren
Branch Chair, Hinckley & Bosworth CAMRA


June 2021
We are pleased to be able to report that over half of the pubs in our area reopened outside in April and by May the majority were open, although many still have a reduced range of beers. There have been a few changes of landlords/landladys but luckily hardly any remain closed.
Following our last update, I thought I would let you know what Hinckley & Bosworth are up to as a branch.
Since April, the Committee has been meeting monthly (via the magic of the internet!) to catch up, exchange ideas and get the wheels in motion on how we regroup as a branch.
However, firstly, onto some important news:
I am pleased to report that Colin Scott has kindly volunteered to be branch Treasurer. As soon as restrictions allow, our previous Treasurer, Bethan Moore, has kindly agreed to show Colin the ropes.
Secondly, John Moyes has also kindly volunteered to take on the role of Branch Secretary.
I would like to welcome both Colin and John to the team and thank them for kindly volunteering to take on these crucial roles within the branch.
During the last committee meeting, we felt the time was right to set a potential (With emphasis on the word 'Potential') date for our first meeting prior to the COVID-19 pandemic. The date we have decided on will be 7th September 2021 (The first Tuesday of the month).
Now to caveat this to the nth degree. This date is subject to all restrictions being lifted in advance. Some of you may not be aware, but CAMRA have also put an embargo on any meetings taking place.
We would like to hear from you on this. Do you feel this would be the right time (Assuming everything goes to plan!) to be conducting a branch meeting? Do you feel you would be comfortable, so relatively soon after the pandemic has 'ended', meeting as a branch. Have your priorities changed since our last meeting? We don't want to hold a meeting without members so the more feedback we can get on this the better informed we will be to make a decision.
Just to reiterate, both the Government's and CAMRA's own restrictions must be lifted before we can hold a meeting.
Sadly, due to the current state of the hospitality sector, a lot of pubs in our area have ceased offering the usual discounts. I would encourage members to be understanding at this crucial time. For those of us who've landed on our feet through working from home & not having to buy so much petrol, an occasional 'keep the change' will help our pubs whilst they continue with the burdensome restrictions. Or, if paying on card, giving permission to round your £29.20 bill to £30. Alternatively, boycotting the 4 bottles for £6 at the supermarket for a month to spend that money in your local. Every little helps!
Further, appreciate the recent extensions to lockdown are not what we all wanted to hear, especially when there's light at the end of the tunnel. However, I would urge everyone to remain vigilant & to continue following the government guidance (Despite some in government deciding not to follow their own rules!). I, as I am sure most of you are, am keen to return to some sort of normality asap. However, ultimately it's the landlord/landlady that gets it in the neck (And receives a hefty fine) if someone is caught not following the rules. I am certain everyone in the branch is following the guidance, however, I would not be doing my job properly if I didn't send out a gentle reminder.
The Elephant and Castle in Thurlaston and The New Inn, Enderby are working in partnership to hold a two site beer festival from Friday 23rd July – Sunday 25th July. As well as over 20 different beers across both sites there will be FREE transport provided between the two pubs on Friday evening and Saturday (all day) Different "pop-up" food will be available with selections at each site with food pairing notes and well as tasting notes for the beers on offer. Further details to be announced on their respective webpages:
www.elephantandcastlethurlaston.co.uk
https://www.facebook.com/thenewinnenderby/
I believe public transport to Enderby is possible by catching the 158 into Leicester & then changing over to arriva service 50. Alternatively, I believe the X55 goes direct from Hinckley to Enderby.
Subject to any government reviews, the Great Central Railway are planning to hold their Annual Beer Festival in conjunction with our Vintage Steam Festival from Thursday 22nd July until Sunday 25th July. More details to follow but please keep an eye on their website for further details/
https://www.gcrailway.co.uk/special-events/beer-festival/
To get there via public transport, take the Arriva 158 service to Leicester & then changing over to the 127 (Leicester to Loughborough) from Leicester City Centre (I am not sure what the situation is in terms of public transport in Leicester now the bus station is being renovated. Easiest stops to get off are just after the Quorndon Fox & then walk down Woodhouse Road to Quorn station.
On the subject of buses, the local council have invited residents to have their say on how to improve bus services in the area. Whilst not directly CAMRA related, public transport is a useful resource for visiting a pub, especially ones in rural 'out of town areas'. If we can help influence improvements to services that help pubs, we should grab the opportunity whilst it is there. A link is below for those wishing to complete it:
https://www.leicestershire.gov.uk/have-your-say/current-consultations/national-bus-strategy-engagement-survey
During my last contact with Nick Robinson, he advised the Church End Brewery Walk taking place on Friday 2nd July was almost fully subscribed. If you are interested, Nick's contact details were provided in the last update, however, I must warn you this is a popular event. It's likely, unless there has been any cancellations, there will be no places remaining.
This got us thinking, do you want to do more of this type of thing? There are public rights of way totalling almost 3,000 miles in Leicestershire alone, including many in the Hinckley area to explore that pass the vicinity of a pub or two. If this kind of thing piques your interest, do drop myself a line ku.gro.armac.htrowsobdnayelkcnih@namriahc
On a final note, there's been some coverage in the news around no shows following a table booking. I am sure all members are courteous enough to phone ahead when cancelling a booking, again, I wouldn't be doing my job properly circulating a gentle reminder to everyone.
Finally, thanks for reading everyone and hope to see you out and about.
Cheers & Kind Regards
Darren
Hinckley & Bosworth CAMRA Branch Chair